Cosmetics and beauty treatments exist since the beginning of mankind. A merchant once said that whoever works for women surely won't experience a business downfall, and evidently, he was right. However, ancient Egyptians, both women, and men, were no strangers to make-up and beauty treatments.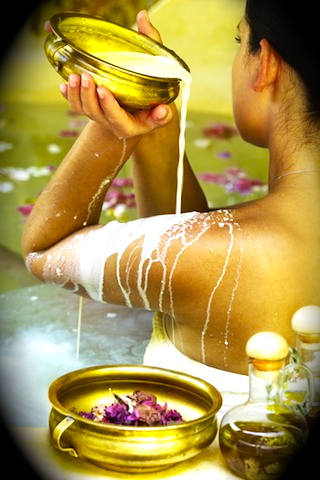 Other than for beauty purposes, they would use cosmetic products and treatments for therapeutic purposes as well. They nourished skin with the help of medicinal oils in order to prevent dry skin caused by a hot and dry climate. Some of the most popular products were green, black or brown eye shadows. Apart from eye shadows, kohl was also an ancient eye cosmetic product, actually a combination of copper ores, ash and burnt almonds, which was used as an eye liner. It was also used for dying eyebrows, an old trend in fact, familiar to Egyptians. Blush formula for cheeks and lips consisted of red clay powder mixed with water. Hair and nails were dyed with henna. Ancient Egyptians believed that the use of make-up has healing and therapeutic properties which they considered magical and god-worthy. Furthermore, it's interesting to note that even back then existed make-up artists, but only the rich individuals could afford them. Accordingly, it's a 2000- year-old profession, contrary to the opinion held by a majority of people who believe it is "an invention" of modern times and accompanying trends. Neither death was the point when make-up lost its significance, quite contrary, a special attention was dedicated to the make-up application for the deceased because they should be completely ready for the afterlife. Oil was used as a basis in most cosmetic products into which various pigments and substances would then be added. In addition to cosmetics, Egyptians were also known for heavy perfumes that could endure for years. They were mostly made from flowers, leaves, and roots of the plants like cinnamon, henna, rose, lily and iris. Moreover, preparative cosmetics was also very popular among Egyptians who were passionate advocates of youthful look and wrinkles-free skin, although their lifespan wasn't very long and the climate was unfriendly with regards to skin. In order to prevent or at least postpone wrinkles, Egyptians would use wax based creams.
Probably the most famous representative of the Egyptians in terms of beauty cosmetic treatments was the Egyptian queen herself – Cleopatra. Ass milk baths with honey she practiced are popular even today. She was the epitome of beauty, so it's no wonder that we admire her beauty and lifestyle 2000 years after. After all, who hasn't seen a movie featured by an eminent actress and a movie icon of the 20th century – Elizabeth Taylor, inspired precisely by Cleopatra's life?
Translation: G. Dujmović