If we want to have healthy and strong teeth, it is important to strengthen their base, not to mention the crucial role teeth have in digestion which, as we all know, begins in our mouth.
Fragile teeth and gum diseases
If you have fragile teeth and gum diseases, go for a detox treatment.
This requires from you to:
 omit all dry meat products, alcohol, coffee and chocolate from your diet;
 cleanse your liver with the help of mixed teas;
 detoxify your kidneys using herbal teas.
Gum disease
brush your teeth with a specially formulated toothpaste
use a medium toothbrush and clean your teeth using circular movements
d

on't forget to clean the inside side of the teeth.

r

inse your mouth with salt water – take a teaspoon of unrefined sea salt and put it into 2 dl of water; this helps reduce swollen gums and it's effective even in the case of heavily swollen and bleeding gums. Massage your mouth with some olive oil and while doing so use a thumb. The massage will strengthen the gums and help remove food residues between the teeth and gums.

avoid  toothpaste enriched with antibiotics since they disrupt the normal oral balance whose role is to protect teeth and gums
avoid sweets (sucrose, to be specific) which trigger the bacterial growth in the mouth responsible for tooth decay.
Toothache
 proven that the clove oil is a true remedy for a toothache; simply massage the oil onto the affected area, i.e. tooth and gums;
good to squeeze out the garlic juice on the cotton cloth and put it on that side of the face (ear) where you feel the pain;
wash your mouth with the solution made from a handful of hop and 0.5 litres of water.
Stronger gums
If you wish to strengthen your gums, rinse mouth 2 times a day with vinegar.
Bad breath
In order to eliminate the bad breath you could:
wash your mouth we some mint tea;
 wash your mouth with some water where you've previously put 1 teaspoon of unrefined sea salt.
Foods for healthy and strong teeth
Another useful thing to know is that there are also certain foods which are very good for our teeth like:
apple, green beans, carrot and celery – chewing such foods removes the plaque from teeth and stimulates salivation that neutralizes the acids in the mouth thereby protecting our teeth;
pineapple contains bromelain, known for its anti-inflammatory properties and cleansing potential.
fiber – fiber-rich diet will help your body ease various inflammation processes, including the ones happening in the mouth;
Oral hygiene
Wash your teeth 3 times a day and don't forget to floss! If you've already washed your teeth before going to sleep, make sure you don't eat or drink (water only!) anything afterwards.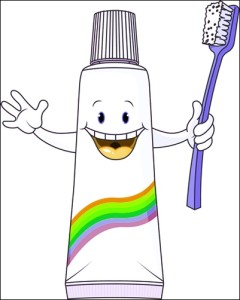 Regularly visit your dentist and also use a tongue cleaner (known as a tongue brush or tongue scrapper) because it may contain many harmful bacteria. This way you clean your mouth and help maintain good oral hygiene which will ensure you – a smile to die for.
Translation: G. Dujmović