Every once and a while we become tired of cooking at home and wish to treat ourselves by going to a restaurant. However, often happens that our eyes are bigger than our belly and we tend to overeat. But one thing should be kept in our mind, this is not the last meal of your life and it is still possible to make a smart choice even dining out as well as to enjoy the meal. Regardless if this is a side dish or the main course, opt for those dishes prepared by cooking, roasting, steam cooking or grilling. If some dish does not specify the preparation method, don't hesitate to ask the waiter for a detailed dish description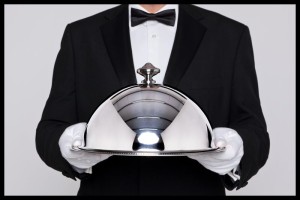 If you are ordering meet, go for low-fat pieces, chicken and turkey always being the best choice, not to mention fish and seafood, my personal favorite. Also, we used to regard salad as a side dish, but it can actually be a delicious and well-balanced meal, which was stressed in particular over the last couple of years when healthy lifestyle has become a sort of a trend. What adds the unwanted calories to the salad are various sorts of dressings which should be avoided as much as possible. Dressings are usually based on calories-packed butter, cream, and cheese.
Another thing to be careful about when ordering food is the amount of sodium (salt) in dishes.
Keep away from dried, salt or canned meat. If the first-course dish is a pasta salad, make sure you skip the bread, still, if that is one of your cravings, don't eat carbs from the main course like mashed potato, roasted potatoes or French fries. Another tricky thing when eating in restaurants is portion size since most restaurants offer oversized meals. But this doesn't imply you should eat everything that is on your plate, instead, you can ask the waiter to pack up the leftover food to go and enjoy it the following day.